National Life Group SecurePlus Elite 5 Annuity is an independent review intended to show you where Annuity Review NLG SecurePlus Elite Life 5 is strong and where it has weaknesses. In order to make an informed decision, it's important to consider all available facts.  This Annuity is popular in the State School Systems however just because it's in the state systems doesn't mean it's actually good, it's the worst annuity I've ever seen . You may recognize it under the name of National Life Insurance Company of the Southwest. Also it is critical to understand the income rider for this annuity and what kind of returns are realistic. In this review, we will cover:
Product type
Fees
Investment options that are available and their realistic long-term investment NLG SecurePlus Elite 5 expectations
Understanding the difference between interest and Income in Annuity Speak.
Features that make it a positive addition to your portfolio
How it's most poorly used as part of your financial plan
NLG SecurePlus Elite 5 Annuity Quick Facts
| | |
| --- | --- |
| Product Name | SecurePlus Elite 5 |
| Issuer | National Life Group AKA National Life Insurance Company of the Southwest |
| Type of Product | Fixed Indexed Annuity |
| Standard & Poor's Rating | None |
| Phone Number | 1-(877) 654-3499 |
| Website | https://www.nationallife.com/ |
Before we go into detail, here is an important legal disclosure.
This review of National Life Group SecurePlus Elite 5 Annuity is an independent review at the request of readers. This review is intended to explain my perspective when breaking down the positives and negatives of this particular model annuity. This is an independent product review, not a recommendation to buy or sell an annuity.
National Life Group has not endorsed this review in any way, nor do I receive any compensation for this review. Before purchasing any investment product be sure to do your own due diligence and consult a properly licensed professional. This review is not intended to give specific advice and your adviser may know more about your circumstances to make an appropriate recommendation. All names, marks, and materials used for this review are property of their respective owners.
Below, you can find some information about the company:
National Life Insurance of the Southwest, the predecessor company of National Life Group, was chartered by the Vermont Legislature on November 13, 1848. It has been insuring people for over 170 years and was one of the first mutual life insurance companies in the U.S. Past insurance customers have included passengers on the Titanic, as well as victims of the 1918 influenza epidemic. It became a member of the Vermont Chamber of Commerce in 1957. National Life offers a range of financial services, including life insurance coverage and retirement plans, and annuities. The Group's customer base was 843,000 in 2016, and in 2017 the face value of its life insurance policies was just over $100 billion.
You can learn more about this from https://www.nationallife.com/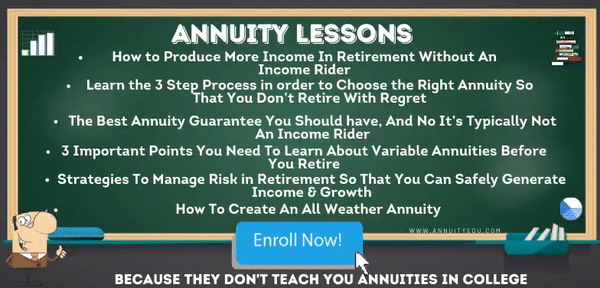 How do Agents Typically Pitch the NLG SecurePlus Elite 5 Annuity?
6% Guaranteed Income?
Tax-deferred accumulation.
Guaranteed Lifetime income
Never Lose A Penny
Flexibility
5% Bonus Accumulation Value
Is Any Of This True?
Many agents might pitch you this annuity as a conservative investment with tax-deferred growth and no downside risk. However, when you really read through what this annuity has to offer, you can realize that there are many more cons than pros in this annuity. The most important aspects that we are going to review in this annuity are extremely low caps and the income rider fee.
NGL SecurePlus Elite 5 Income Rider?
Agents will attempt to impress you with the guaranteed 6% Income base but it's important for you to calculate the true rate of return. While the 6% sound impressive from a guaranteed perspective the Caps in the investments are so low. your an investor that's trying to accumulate wealth this annuity has very very low return potential. There's no point of having this annuity if your not going to keep it for life. The 6% Guarantee is really an illusion.
Agents also may tell you about the 5% bonus accumulation that comes with this annuity, but at the end of the day, this is one of the worst annuity out there, and I'm going to go through every detail so you can understand it too.
The only thing is that is true about this annuity is that it will give you zero downside in down market. However, Is that of any value when you see that the returns will never even keep up with inflation?
Let's discover everything behind this Annuity Product from National Life Group AKA National Life Insurance Company of the Southwest.
NLG SecurePlus Plus 5 Power Accelerator Plus 10 Annuity fees in detail:
Annual admin fee: No fee
Income Rider Fee (required over 10k): 0.65-0.75%
Free Withdrawal fee: Up to 10% annually.
Surrender charges:
| | | | | | | | | | | | |
| --- | --- | --- | --- | --- | --- | --- | --- | --- | --- | --- | --- |
| Contract years | 1 | 2 | 3 | 4 | 5 | 6 | 7 | 8 | 9 | 10-11 | 12 |
| Standard Charge | 10% | 9% | 8% | 7% | 6% | 5% | 4% | 3% | 2% | 1% | 1% |
| Texas | 10% | 9% | 7% | 6% | 5% | 4% | 3% | 2% | 1% | 1% | 1% |
What are the investment options for NLG SecurePlus Elite 5 Annuity?
The two investment options for this annuity are the S&P 500 Index and the Russell 2000 Index, this is good for an annuity because these are high performing indices, however, they say that this annuity "provides you upside interest potential and zero downside interest". This is completely false since the current cap for the SecurePlus Elite 5 is 1.5% of any of these indices, which basically means that it does not matter how well these indices perform the max return you are going to get a max return of 1.5% per year before fees. This is under the rate of Inflation guaranteed!
 The other option they offer you is a Declared Fixed Rate at around 1.25% max which is worse than the option above. 
This is one of the worst annuities in the marketplace. If you currently have this annuity and you feel trapped, please reach out to a Certified Financial Planner Professional that can guide you to a solution for this problem.
The Riders For NLG SecurePlus Elite 5
The Guarantee Lifetime Income Rider that this annuity offers is require on all applications submitted over $10,000. The fee for this Rider will be between 0.65-0.75%, this means that not only you have a low cap of 1.5% of your investments but you also have to subtract the fee which means that in the best case scenario that your investments always have a good performance you'll be getting a max of 0.85% of simple return on your money. 
Still don't get it? Let's see the numbers in the following example, if Peter has a $100,000 in the National Life Group (aka National Life Insurance Company of the Southwest) SecurePlus Elite 5 Annuity, and supposing the market goes up more than 1.5% every year for the next 10 years (best case scenario). It means that Peter will only grow his account to $108,500 or 8.5% in a period of 10 years. That would not even keep up with inflation, and he'll end up with less value on his money at the end of those 10 years. 
The NLG SecurePlus Elite 5 Annuity
Where does it work best:
No downside
Taxed deferred extremely low growth
Guaranteed Lifetime Income
Where it works worst
Access to the funds within the annuity's 10-year surrender charge period
For those who need low, mid or high levels of growth
For those who want preserve their money and not being beat up by inflation
For those who do not want to lose their money
Annuity Edu's Summary on the NLG SecurePlus Elite 5 Annuity
Almost all the annuities have their pros and cons, some are better than others, but after reviewing this annuity we can conclude that is one of the worst products that is out there,.
One of the reasons I created this website was to help educate retirees on whether to buy and annuity or not, or how to get out of a bad annuity. Well, this one is a really bad annuity and if you are trapped in this annuity feel free to contact me with your issue, I'd be more than happy to help you navigate through possible solutions to get around this bad investment. Always remember that there is a solution for every problem, and you only have to ask for help in the right place.
From the low caps to the unnecessary high-income rider fee that drains your low returns, the SurePlus Elite 5 wins the top 1 worst Annuity of AnnuityEdu.
Annuities are best used to enhance your asset allocation and improve the return or reduce the risk not to drain your money with fees and low caps.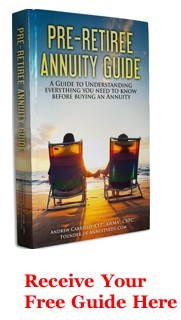 Buying an Equity Indexed Annuity is a long-term commitment. Do you understand how this annuity works now? Continue to educate yourself on Annuity and annuity Strategies and how to improve your asset allocation. Annuity and Retirement Planning Education is something we do for free here at AnnuityEdu. Take one of our free online courses.
In case you need more in-depth information, Click here to request a complimentary, no-obligation Annuitycheck® Report to test an existing annuity or an annuity before you buying one or if you want a free complimentary call from Certified Financial Planner Click Here to schedule a meeting. Always remember, if your agent was honest with you, the numbers will match up.