In this article we're going to review the NationWide Monument Advisor Variable Annuity. Like every other investment variable annuities have strengths and weaknesses. And each company has unique features to offer. Today I'll walk you through my analysis, we'll go over fee information. Where I see NationWide Monument Advisor excelling in your financial situation. And what could be it's possible cons. It's very important that you understand how this annuity truly works by seeing through the sales pitches that aren't always what they seem.
This NationWide Monument Advisor Variable Annuity review will cover:
Product Type
Fees
Investment options
Understanding the income rider
How it can best help your financial plan
How it is most poorly used as part of your financial plan
NationWide Monument Advisor Annuity Quick Facts
| | |
| --- | --- |
| Product Name | NationWide Monument Advisor Variable Annuity |
| Issuer | NationWide Mutual Insurance Company |
| Type of Product | Variable Annuity |
| Standard & Poor's Rating | "A-" (Good) |
| Phone Number | 1 (877) 669-6877 |
| Website | https://www.nationwide.com/ |
How do Agents Typically Pitch This Product?
Annuity Replacement
A tax-efficient way to grow money.
Tax-deferred growth.
How NationWide Monument Advisor work?
The NationWide Monument Advisor is a Variable annuity, it works similarly to other variable annuities but with some good advantages. When a person buys this product, he or she can choose from over 350+ investment options, that gives a lot of flexibility and diversification for a person's investment portfolio.
Here are the Funds available for this Variable Annuity: https://www.nationwideadvisory.com/tools/aboutfunds/annuityfundperformance.cfm
The NationWide Monument Advisor Variable Annuity is a tax-deferred annuity which means that the money growth in this annuity is tax-free for whenever the buyer wants to take income in the future.
Below we are going to talk about the advantages of this annuity over others, and if you should buy it or not.
Is any of this True?
This annuity definitely has some good aspects to take into consideration. It has low fees, only $25 a month which is much lower than the average variable annuity. The other good thing about this annuity is the investment flexibility, it has over 350 investment options, which can benefit your portfolio, however, what agents don't tell you is that those investment options (funds) come with fees, the fees range between 0.25-2% so you in case you decide to buy this annuity you have to re-evaluate if those fees are worth the price.
It is true that the NationWide Monument Advisor is one of the best Variable Annuities when it comes to low fees, and it would be a good option as a replacement for your current expensive annuity, however, it is not in all cases. We recommend you to reach out to a Certified Financial Planner that can help you run the numbers and tell you if it is worth it to buy or to replace your current annuity for this one.
Before we go into more detail, please read this legal disclosure.
This review of the NationWide Monument Advisor Variable Annuity is an independent review at the request of readers. This review explains my perspective when breaking down the positives and negatives of this model annuity. This is an independent product review, not a recommendation to buy or sell an annuity. Lincoln Financial Group has not endorsed this review in any way, nor do I receive any compensation for this review. Before purchasing any investment, product be sure to do your own due diligence. Consult a properly licensed professional, should you have specific questions as they relate to your circumstances. Furthermore, this is not intended to give specific advice. In any event, your advisor may know more about your circumstances to make the recommendation for you. All names, marks, and materials used for this review are property of their respective owners.
Information about NationWide Mutual Insurance Company
Nationwide Mutual Insurance Company and affiliated companies is a group of large U.S. insurance and financial services companies based in Columbus, OH. The company also operates regional headquarters in Scottsdale, AZ.
Nationwide Financial Services (NFS), a component of the group, was partially floated on the New York Stock Exchange prior to being repurchased by Nationwide Mutual in 2009. It had owned the majority of NFS common stock since it had gone public in 1997.
You can learn more about this from https://www.nationwide.com/
Understanding NationWide Monument Advisor Variable Annuity Fees
Annual Admin Fee: $240
Fund Fees: 0.25-2%
M&E Fee: No fee
This Annuity works Best:
For those who want lower fees.
Those who want many investment options available.
Tax-deferred growth.
This Annuity Works Worst:
No principal guaranteed
Those who need liquidity.
For those looking for a lifetime income.
What is this Annuity Good For?
The NationWide Monument Advisor Variable Annuity can work as part of your portfolio if you are looking to defer part of your money grows until retirement. It also works well for people that want to replace their current expensive annuity. In this particular case it is possible for a person to rollover a current annuity to this one, however, you have to make sure that the surrender charges don't apply in this case.
Commonly you see agents selling you variable annuities with expensive income riders promising you 5-7% return on your money but what they don't tell you is that those returns are Fake returns most of the times, for these two reasons: (1) that 5-7% return is never anywhere close to those numbers because it is reduced significantly after adding all the admin, riders and funds fees. So, in the end, the return would be close to 2-3%. (2) Also, in order to get that 2-3% real return, you have to start taking your taking income from the annuity, and after that, you are going to be depleting your own capital, and not what the insurance company promises you.
This is why this Variable Annuity is superior to most of its competitors, when you take in consideration the low fee, and the investment flexibility, you can be open-minded and possibly consider this annuity as a part of your portfolio. However, you should never rush into any investment that you don't understand, and the best way to make an educated decision is to consult with a professional and see if after running the numbers this option is the best for your current situation.
To Summarize
The NationWide Monument Advisor Variable Annuity does not offer lifetime income. Always remember that an annuity is a long-term commitment and it is possible that you pay a fee is you decide to withdraw your money before 59 ½ , this is why you should consider to run the numbers with a certified professional in order to decide what part of your money to allocate in an annuity if that is the case.
If you have an income rider, you're truly committing to the annuity for life so if this your case this annuity might be good for you to replace the annuity you currently have.
You'll need a comprehensive retirement income analysis that factors the fees, inflation, taxes, and your investment positioning to see if the annuity adds value to your retirement. The income rider is not as valuable as it seems. Test it and see if it's worth it for you.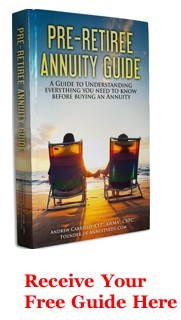 If you have an existing Annuity, you may need an Annuity Rescue, to rescue you from being upside down or rescue your annuity from drowning in fees. You may think you're trapped, but there are options to increase your Guaranteed lifetime income and reduce your fees. Contact us and request an Annuitycheck® Rescue Report on your current Annuity.